A LUXURY BOUTIQUE APARTMENTS HOTEL IN THE HEART OF TYRE

Welcome to Tyre Boutique Apartments
Feels like a home at Tyre boutique apartments! We offer you to live in the heart of Tyre.
Cosy apartments dated from the 17th century, recently restored provide a best quality-price ratio that meet your need and, allow you to stay for short or long term.
Dream big and Live big at Tyre Boutique Apartments!
Our Story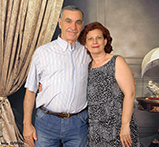 In 2013 Toni & Eva decided to revive the flame in Tyre. They restore the home of love without any designer help. Toni & Eva said that Tyre Boutique Apartments should tell their story of who they are and, be a collection of what they love. Toni & Eva was eager to erase the memories of war, preserve and, promote the cultural heritage within Tyre.
Services
Free Wifi
Free standard cleaning service for all guests staying less than 7 nights
Free deep cleaning service, once a week, for all guests staying more than 7 nights
Free Door-to-door garbage removal
And the following services can be organized from the reception:
- Weddings
- Sea Adventures: kayak tour,pedal boat, snorkeling trail, speed boat, parasailing, banana, fly-fish,donuts.
- Reservation of the Island "zireh" to spend a day in the middle of the sea.
Nearby
Tyre Boutique Apartements is located in Catholic district, one of the oldest quarter.
It's around the port and the Catholic Church, a typical cosy Tyre square with a famous restaurants, bars and coffee chops.